F2 Litter, 3/21/16, Sophie X Tank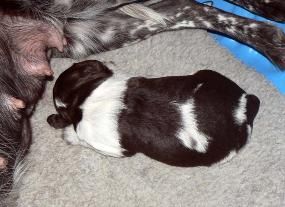 Update 3/21/16: While we thought Sophie wasn't bred it turns out she was and our F2 litter was born today. She must have taken late in her cycle and was about 8 days later than we thought so the ultrasound didn't catch the pup. She only had one male pup. Sophie was bred with Robingun's Armed and Dangerous Tank.
All photographs and media files displayed on this web site are copyright protected, For use please contact the respective owners. All rights reserved.