Kaiser (owned by Pam Robinson)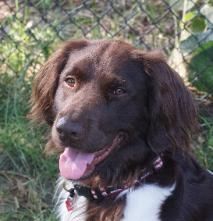 Kaiser II aus der Wolfskammer
Quick Stats
Color: Brown and White
Height: 22" , Weight: 60 lbs.
PennHIP: 0.35, 0.35
NAVHDA NA: 103 Prize II, Nose: 4; Search: 3; Water: 4;
Pointing: 4; Tracking: 4; Desire: 3; Cooperation: 4
Sire: Benno vom Pannrack (JKN) 11-0734 KlM
Dam:Haika aus der Wolfskammer 11-0752 KlM
Kaiser is owned by Pam Robinson out of Lincoln, NE. He is a calm, biddable male with lots of hunting experience. Below are his SMCA breeding evaluation remarks.
Kaiser II aus der Wolfskammer is handsome looking brown and white male. Correct height and length proportions. Above average bone and muscle mass. Masculine looking head with good proportions. Flews slightly loose. Medium brown eyes. Nice high ear set. Nice well muscled neck that flows well to the back. Front assembly has very good angulation with legs set nicely under the chest. Front legs straight and parallel, but feet a turn out a little. Excellent chest depth, length and tuck. Good straight well muscled back line. Croup rounded and steep. Tail length correct, but set little low. Rear angulation okay, but a little on the straighter side compared to front. Nice width on thighs. Rear legs straight and parallel. Rear feet straight, fairly well knit and tight.
Excellent healthy looking coat with very good length and excellent furnishings.
Gellery
All photographs and media files displayed on this web site are copyright protected, For use please contact the respective owners. All rights reserved.