Buddy
Buddy (Brendan Boy v Omeara/Sengpiel), Born Feb 17, 1996, Died 12/23/10
Quick Stats
Color: Brown and white
OFA: Good MU-121G25M
NAVHDA: NA: 108 Prize I; UT: 190 Prize I; 2000 Invitational: 151 points No Pass; 2002 Invitational: Qualified, Did Not Run
Sire: Jeiko vom Jakobsbrunnen
Buddy: Our retired stud dog. Passed in December 2010.
Buddy was the littermate to our dog, Whip, and we bought him and all of his frozen semen when he was about 11 years old.
Buddy has been extensively tested in NAVHDA including a Prize I in Natural Ability, Utility, and he also ran in the 2000 Invitational and qualified for the 2002 Invitational, but didn't run. Buddy is available for stud via frozen semen.
Buddy Progeny NAVHDA Testing Information
Buddy sired 14 pups in three litters before we bought him in 2006. Of those, 8 were tested at the NA level. 5 pups received a Prize II, 2 pups a Prize III, and one pup with No-Prize. One was tested at the UT level and received a UT III.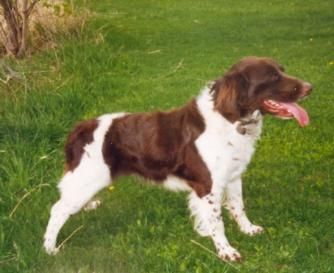 All photographs and media files displayed on this web site are copyright protected, For use please contact the respective owners. All rights reserved.